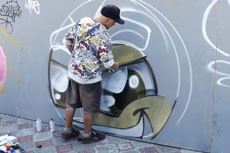 PROGRAM CHAIR

CHOLPON CHOTAEVA

OFFICE MANAGER

JUMAGUL BEKETAEVA

MAIN BUILDING ROOM 236
TEL: +996 312 663 309
EMAIL: anthropology@mail.auca.kg
ANTHROPOLOGY
WHAT IS ANTHROPOLOGY?
Anthropology concerns the study of human thinking, activity and communication in its social, economic, ecological, biological, cultural, historical, political, and psychological contexts. It is one of the most wide-ranging academic disciplines.
In Anthropology courses, students learn about religion, economics, society, politics, art, family structures, social relations, food and more as they pertain to many cultures of the world, and also human evolution process, various cultures in the past and their development over time.
ABOUT US
Our Anthropology Department is the first and only one on the territory of Central Asia to give students a comprehensive training in anthropology, focusing on independent and analytical training.
It was established in 2003 and since that time actively participates in AUCA's community life. The Anthropology Department provides its students with a wide range of possibilities to work in different international research projects as well as to conduct their own fieldwork. It also conducts joint research projects with the Sociology and Psychology Departments as well as with universities abroad, such as Indiana State University in the US, New Castle University in the United Kingdom and others. The activities of the department also include the organization of the annual Central Asian Anthropological Conference, summer excavations and anthropological fieldworks, seminars, exhibitions.
OUR FACULTY
Our teaching and research staff includes AFP fellows and scholars who received their PhDs and Masters from various international universities in the United States, Australia, France, Russia, Hungary and others.
YOUR POSSIBILITIES
Our American credit-hour system enables our undergraduates to spend their semesters in other international universities, go abroad for summer schools, or participate in exchange programs such as UGRAD (one complete year of study in US sponsored by IREX) and our graduating students to enter any international Master School.
We offer our students to develop in three major directions: Culture and Identity, History and Archaeology, and Development Anthropology.
HISTORY AND ARCHEOLOGY
Studying history is essential for understanding the present and it is therefore unsurprising that the UNESCO ranking of academic disciplines ranks history as among the most important ones. Through studying history we learn about the life of our ancestors, are able to connect with people of the region, instill pride for their achievements and also identify problems. Moreover, historical awareness is essential to avoid past mistakes and thus to make the world a better and more comfortable place for our future children and grandchildren. In this program students will develop a range of skills fundamental to historical thinking and contextual learning, including a comparative study of Kyrgyzstan and Central Asia, revealing general historical patterns and particular events, evaluating long-term prospects and dealing with complexities.
The history of humankind is preserved not only in written records, but also in material objects, such as the remains of ancient settlements with their ruins of buildings, irrigation channels, paintings, sculptures, dishware and tools. Some of these remains can be found on the surface, others have to be dug out from the ground. These monuments are invaluable as they contain many artifacts, which tell people about their past. In this program students will be introduced to specific features of archaeological sites of Central Asia. They will learn about human cultural chronology from the earliest Paleolithic age to nomadic life in medieval Central Asia, and the development of its urban culture and prosperity of the Silk Road.
CULTURE AND IDENTITY
The central question in this direction is: what makes us the way we are? Or to phrase it somewhat differently: what does it mean to be Kyrgyz, or Turkmen, or Afghan, what does it entail to be a Muslim or Christian, a man or a woman, a peasant or a factory worker. Students will engage with questions of identification in relation to historical, economic, and cultural factors, and learn about the ways in which humans are socially and culturally constituted. Much attention will be paid to the various ways in which culture finds its expression in music, dance, rituals, beliefs, kinship, politics and architecture in order to gain a better understanding of cultural variation and identification. Issues of how people perceive themselves and how they are perceived by others are essential for understanding matters such as inter-ethnic conflict and cooperation or for example migration. Indeed, how do ideas of self and other change when someone moves from rural Kyrgyzstan to Bishkek or from Kyrgyzstan to China or Europe and encounters not only people with a different outlook on life, but also engages in new socio-economic situations. Culture and identity are always fluid and changing, thereby testifying to the creative potential of people. This track will provide theoretical background and practical skills in studying aspects of culture, based on a holistic and contextual approach
DEVELOPMENT ANTHROPOLOGY
This direction focuses on the role of culture in the development process and teaches how to engage local communities in various development projects. In this track we look at how marketization and globalization have influenced the social and cultural fabric of communities in Central Asia and beyond. Students will study the causes and effects of such pressing issues such as poverty, environmental degradation, conflict, and migration, thereby stressing that development needs to be understood in all of its complexity. They learn how to adopt culturally sensitive and context-appropriate ways of improving the living conditions and well-being of communities. They also learn about the roles of governmental, international donors and grass-root organizations in dealing with such economic and social problems, and they are taught how to become bridging agents between governments and donors on the one hand and the intended beneficiaries of development programs on the other.
In Kyrgyzstan and in Central Asia more generally many development projects have been introduced in the period after the breakup of the Soviet Union, and there is a real need for specialists who are knowledgeable not only about the techniques of development but also about the socio-cultural contexts in which these projects are implemented. Students who have specialized in development anthropology will therefore be well placed to take up work in governmental offices or in international organizations that focus on social and economic problems and potentials in Kyrgyzstan or abroad.
Highly qualified faculty

Annual scholarship opportunity

Long-term fieldwork
Short-term field surveys

Expeditions on the territory of Kyrgyzstan, Central Asian countries and beyond region

Participation and co-organizing annual conferences, round-tables, workshops, forums